Welcome!
<! FONT SIZE=+1> Lewis "Buck" Crook was my grandfather. He died of heart disease before I turned four years old. I was born and lived in Germany for three years so we didn't see much of each other. These photos are from my first visit to Atlanta at age six months: the first grandson!
What I know of him I learned from my mother, Lois Crook Crossley, the youngest of Buck's three daughters. Mom was his namesake: Lewis Edmund and Lois Elaine. My grandmother pronounced "Lois" and "Lewis" nearly the same.

Buck knew at ten years old that he wanted to be an architect. With his partner, Ernest "Ed" Ivey, he practiced his art for nearly a half century: almost 600 commissions, most of which were built in and around the city of Atlanta, Georgia. Crook was the designer, and Ivey was the supervisor of construction: the architectural firm of Ivey & Crook, Architects. To their friends, family, and each other, however, they were simply Buck and Ed!

In 1982, my mother met with a prominent, architectural author and historian, William Robert Mitchell, Jr. Bill had mentioned Ivey & Crook in his book, Landmark Homes of Georgia,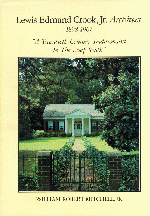 and Mom asked if he thought people would be interested in a book exclusively about Buck's architecture. In 1983, he agreed to research, write, and publish such a book. Lewis Edmund Crook, Jr. "A Twentieth-Century Traditionalist In The Deep South" was published in November of 1984 and can be ordered from Amazon.com or purchased directly from my mother. For me, my brothers, my cousins, and the rest of my family, the Crook Book, as it is affectionately known, is a great source of pride. My intent is for this web site to complement the book's chronological listing of Ivey & Crook's commissions. The jobs will be organized, not by job number and date, as they are in the book, but by building type and location -- specifically those in and around Atlanta, GA. It is from the Crook Book that many of the images and some of the text in these pages is borrowed.
Someday, I hope to be able to purchase one of my grandfather's homes. (Not a trivial accomplishment given their current market value!) It is through this tribute to him that I will record the history of his architecture. <! /FONT>
Jim Crossley, February 1996