350 Blackland Road, N.W.
Job #574, originally built for Frank C. Owens in 1953. This Greek Revival home was recently (summer 1996) purchased for just under one million dollars. The Coldwell Banker brochure offers a detailed description.
---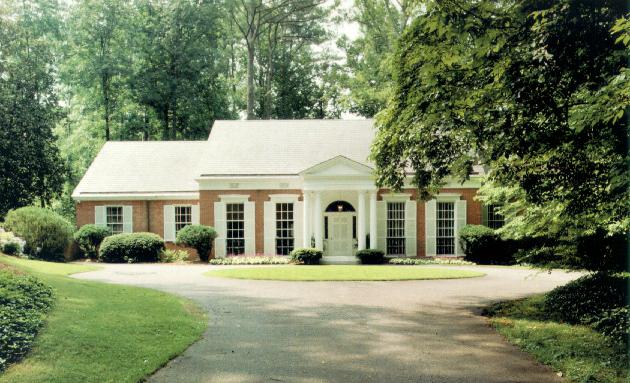 ---
Coldwell Banker brochure
Built in 1953 and designed by esteemed architect Lewis Edmund Crook, the residence is a fine example of nineteenth-century Federal and Greek Revival architecture. The front entrance and all external thresholds are made of Georgia marble. There is a Buckingham slate roof and newly installed copper gutters. A total of eight rooms offers approximately 5,200 square feet of living space plus approximately 1,000 square feet on the lower level. The elegance of this home's design creates an ideal family environment and provides a setting for grand scale entertaining. Ceiling heights extend to 10.5' on the first floor and are 9' on the second floor. Random width pegged walnut floors are found in the entry way, dining room and library. Oak flooring is found throughout the rest of the house. There are two HVAC systems.

Upon entering the Entrance Hall (8' x 24') attention is drawn to the scale of the rooms and exquisite mill work, both from the standpoint of beauty and utility. To the left of the Entrance Hall is the Formal Dining Room (18' x 16') with triple hung floor-to-ceiling windows. A Powder Room is located to the left of the Hallway. A Library (21' x 16') with Italian Marble gas fireplace, triple hung floor-to-ceiling windows and paneled in Northern Red Birch is located beyond the Entrance Hall. This room also flows into the wonderful outdoor feeling Garden/Family Room (24' x 16'). Both Library and Garden Room connect to a generous hallway. To the left of the hallway is the updated Kitchen (13' x 18') with breakfast area. A spacious laundry room and two-car garage connect to the kitchen. To the right of the Entry Foyer a hallway leads to a guest bedroom (18' x 14') with triple hung floor-to-ceiling windows and full bath. Located at end of hallway is the Master Bedroom (21' x 15') with Italian Marble gas fireplace and beautiful pane windows overlooking magnigicent gardens and terraces. Located next to the Master Bedroom is a large full bath with dual vanities.

From the hallway are stairs leading to the generous upstairs landing with built-in book shelves. To the right is Bedroom #3 (20' x 13') with ample closet space and private bathroom. To the left is Bedroom #4 (20' x 13') with ample closet space and private bath. Located off the hallway are four large walk-in storage rooms that may be developed into bedrooms and full bath.
---
Back to... [ Lewis Crook ] [ Atlanta Residences ]