Biographical sketch
---
Childhood
Lewis Edmund "Buck" Crook, Jr., was born on September 23,1898, in Meridian, Mississippi, the fifth child (fourth living at the time of his birth) of Lewis Sr. (born 2/2/1869 in Raleigh, MS) and Mary Elingus Williams Crook (8/14/1870 - Meridian, MS).

Buck's father, Lewis Sr., was the first Certified Public Accountant in the state of Mississippi. Actually, he was more than that, as his company letterhead made only too clear:
"LEWIS E. CROOK, Accountant and Auditor, Bank Examiner, Adjuster, Systematizer, President of the Association of Certified Public Accountants of Mississippi, Member of the State Board of Bank Commissioners, Trained and experienced men for all branches of accountancy, Efficient and confidential service furnished at any point in the South."
Buck's mother, "Ellie", was devoted to her family and her religion: the Crooks were Presbyterians. She also helped at her husband's office with the bills and the mail. Her widowed sister, "Aunt Nan", lived four houses away in Meridian. Her children, along with Buck's brothers and sisters, comprised the nine first cousins with whom Buck spent his childhood. It was from his older cousins that Buck acquired his nickname: Buck-fatty-waddle-gobble-lotta-boo-hoo! They thought it clever to refer to a slim, agile, witty, intellectual boy as such.

Buck was a serious child, interested in what adults could do. Both of his grandfathers were honored Civil War veterans, and Buck was greatly influenced by both: Benjamin Franklin Crook and Samuel S. Williams. The latter was often called on to "crack" the safes of people who lost or forgot their combination, and he occasionally allowed the young Crook to accompany him. Buck listened to him sing light opera and asked questions about his war experiences and his job as a train engineer. This inspired a lifelong interest in locomotives and the Civil War. When he was ten years old, Buck's family moved out of downtown Meridian. He became interested in the remodeling work going on in his new home and declared at that time that he wanted to be an architect. He won high honors at Meridian High School - he was best in his class in Geometry - and left to attend college at only fifteen years of age.
Education
In the fall of 1915, Georgia Tech was only thirty years old: its reputation had yet to be established by men like Buck Crook. Buck, in fact, had all but decided to enroll at the Massachusetts Institute of Technology, but then he met a football coach from Georgia Tech. Coach William Alexander, at the time an assistant for head coach John Heisman, for whom the famous trophy is named, had come to Meridian to recruit what turned out to be one of Buck's close friends. (My mother doesn't remember the youngster's name.)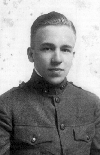 Buck learned of Georgia Tech and its newly founded Department of Architecture from the coach (who became Tech's head coach in 1920), and with a little coaxing from his gifted friend, decided to become a Ramblin' Wreck.

The two of them, Buck and his athletic colleague, pledged and joined a social fraternity, Sigma Alpha Epsilon. He would later design prominent SAE chapter houses, including the one at Georgia Tech. He made the Honor Roll each of his four years, and as a senior he was elected to Phi Kappa Phi and was president of the Architectural Society. He also served several months of active duty during his senior year, as a second lieutenant of infantry stationed at Trinity College, Hartford, Connecticut. He graduated on June 16, 1919, with a BS in Architecture.

Buck formed lasting relationships with soon-to-be prominent Atlantans at Georgia Tech, including A. Rhodes Perdue, for whom Ivey and Crook designed and built The Riverly in 1935, as well as a number of stores for the Rhodes Furniture Company.

Tech's Department of Architecture (it is now called the College of Architecture) was founded by Buck's future partner, Ernest Daniel "Ed" Ivey, in 1908. Although he is considered by Georgia Tech to be an alumnus of the class of 1911, Ivey actually left a few months before completing his degree: he was eager to start his career!
Apprenticeship
Bill Mitchell, in the Crook Book, writes:
"Buck Crook's professional education refined what he already possessed, an inborn sense of beauty and a natural gift for design. His apprenticeship [added] to that refinement and [gave] him the rare opportunity of European travel with the principal designer of Hentz, Reid & Adler, Neel Reid."
Immediately after graduation Buck went to work for one of the most prominent architectural firms in the South, Hentz, Reid & Adler. He became the chief draftsman for Neel Reid, and due to his extraordinary talent, was afforded the opportunity to accompany his mentor on a sketching tour of England, France, and Italy in the spring of 1922. It was not only Reid but other Hentz, Reid & Adler associates by whom Buck was influenced, including his future partner, Ed Ivey, and the eminent Atlanta architect, Philip Trammell Shutze (Georgia Tech, 1912), whose name was added to that of the firm in 1927.

It was also at Hentz, Reid & Adler that Buck met his future wife: my grandmother, Florence Hammers. She was a secretary and did some bookkeeping at the firm while she pursued an accounting degree at Georgia Tech.
Partnership
On May 1, 1923, after four years of dedicated study and service, Buck left Hentz, Reid & Adler with Ernest Ivey to form Ivey & Crook, Architects. Before petitioning Georgia Tech to form a Department of Architecture,

Ed Ivey had spent three years studying Civil Engineering, and was well-acquainted with the engineering aspects of architecture. The roles of the two partners were well-defined: Buck was the designer and Ed, the supervisor of construction. Bill Mitchell writes:
Ivey & Crook, Architects, was never a large office in numbers; there were no silent partners, and the two principals did most of the work, with the help of a few draftsmen, throughout the more than four decades of the firm's existence. The complementary strengths in construction and design of the two partners, the division of labor, in effect created one architect. Buck Crook's designs were perfectly carried out on site by Ed Ivey's superintendence. Crook made preliminary sketches, and then did much of the actual drafting of the working drawings. Ed Ivey prepared the specifications, and then acted as the "clerk of works," expertly supervising construction that had been drawn and specified. Often there were several designs on the drafting tables, at the same time that several buildings were under construction.
They worked together for the better part of their lives: a 43-year professional relationship that ended with the deaths of both partners within only a few months of each other, Ivey in November 1966 and Crook in January of the following year.
Family
Florence Hammers was a secretary at the architectural firm of Hentz, Reid & Adler, for whom Buck immediately went to work after graduating from Georgia Tech in 1919. She was also studying accounting at Tech and received her B.S. from there before consenting to become my grandmother on September 8, 1926. If they weren't the first, they were certainly among the first Georgia Tech graduates to wed. As the caption beside her photo in Tech's Blueprint "nearly" indicates, she was the first female CPA to graduate from Tech.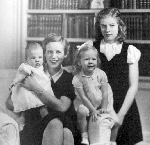 My mother (on the left, in my grandmother's lap) writes:
To the question, "Do you have children?" my father would reply, "All my boys are girls." This odd response, meant to be funny, probably evolved when he answered in a normal manner, "I have three girls," and the inevitable query followed, "No boys?" With humor - the patience of the wise - Daddy answered, "All my boys are girls."
My aunt Florence was the eldest of Buck's daughters: she was named after my grandmother. Aunt Mary was the middle child, named after my great-grandmother. My mother, Lois Elaine, was born after Buck had been in practice 21 years! She was named after Lewis Edmund Crook, himself.

Mary had three children: Laura, Alan, and Andy. Lois had four: Jim (me!), Aaron, Miriam (died as a baby), and Sam. Sam's middle name is Lewis. The oldest of the grandchildren, my cousin Laura, followed in Buck's footsteps by receiving her degree in Architecture from Georgia Tech. My brother Aaron and I also graduated from Tech, as did my wife, Laurie, who wears the wedding ring my grandfather presented to my grandmother in 1926.
Eccentricities
Buck was a gentleman, quiet but funny. He was playful, like a child himself. He spoke to his daughters' dolls and any animals that happened through his yard. He had an ear-piercing whistle, which didn't affect him since he was "stone deaf" in his left ear.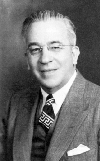 He sang songs and recited parts of poems, and he could play piano by ear -- his right one. He could also walk on his hands, even up the cool, marble steps of his front porch.

At breakfast, he would discuss his dreams of the night before, and often he would wonder aloud about things like "what color numbers are". Because the cook in his childhood home frequently burned the toast, he liked it that way as an adult. He liked homemade hot pepper catsup on steak. He liked homemade biscuits with gravy. He drank his coffee black.

He was a perfectionist. He loved to play practical jokes. His hobbies included model trains, Civil War history, and uncirculated coins. He did not like large parties: he claimed to have claustrophobia, but my grandmother considered that "a convenient excuse." As a child, he received a pin for attending Sunday School without an absence for eight years. He reminded his own family of that. Often. And, often it was the reason he did not attend church later in his life. He never drove an automobile after 1947, when he saw a close friend killed by a car on Peachtree Road, near his home. He either walked, took the bus, or my grandmother drove.

He composed the following song for his wife, my grandmother:
Twilight brings memories of you, My Dear
And memories haunt me when you're not here.
The shadows trace a smiling face
And arms out-stretched in fond embrace...
The image is gone, but I feel you're near,
For whispering words linger near my ear...
I assume he was referring to his right ear!